Are you looking for a new office desk that will help you get the job done and look great? Our office desks will bring beauty and style to your office. Shop our entire selection and find the right desk for you. If you're still doing your research, make sure to check out our Complete Guide to Office Desks for more information on selecting an office desk.
Despite ever-evolving technology in the workplace, desks are still very much a part of almost every office employee's day-to-day work life. It's where your computer lives, it's where you file away your documents and, when it comes down to it, your desk is your home away from home. Whether you're designing a home office or you need to replace the old desk in your corporate corner office, there's a lot to choose from, and it can be tough to make a decision. This comprehensive guide to office desks is designed to give you a solid understanding of where to start your search.
What type of desk should I buy?
The options can be overwhelming. Compare and contrast these common types of desk to determine which is the ideal choice for you and your work style.
Executive desks are commonly used in large offices with ample space to spare. These big desks almost always have a double pedestal design equipped with file and box drawers for housing office paperwork and supplies. Executive desks are typically made up of a single work surface that is situated in the center of the office, but executive L-desks and executive U-desks also exist for those who find themselves in need of more space.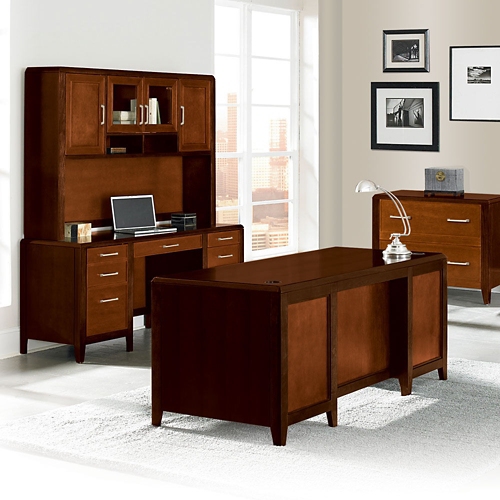 Computer desks
 are scaled down versions of executive workstations that typically include work surface space for a desktop computer, filing drawers and wire management capabilities. Computer desks are ideal for home offices and those that aren't quite large enough for a big executive workstation.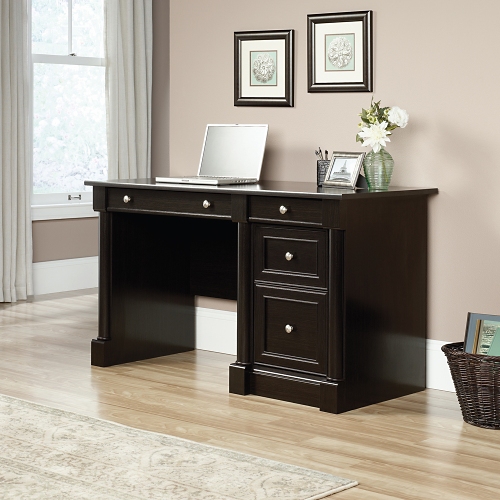 Compact desks
 are computer desks on a smaller scale. These little workstations are perfect for use in tight quarters and can come in corner shapes as well as straight and L-shaped designs to fit virtually anywhere.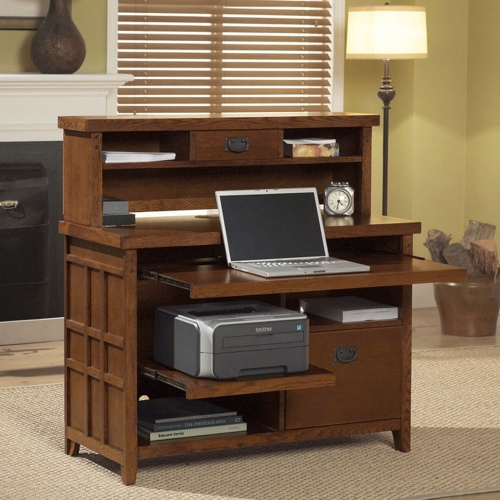 L-Shaped desks
 come with two connecting parts—a desk and a return. The desk portion is typically larger, while the return is skinny and meant to be used as additional work surface space. L-desks come in a wide range of styles and sizes, making them a great choice for just about anyone who needs more desktop space in his or her work life. Just take caution—some L-desks have an unfinished back and must be placed in a corner, so double check your product details if you're planning on using one of these in the middle of a room.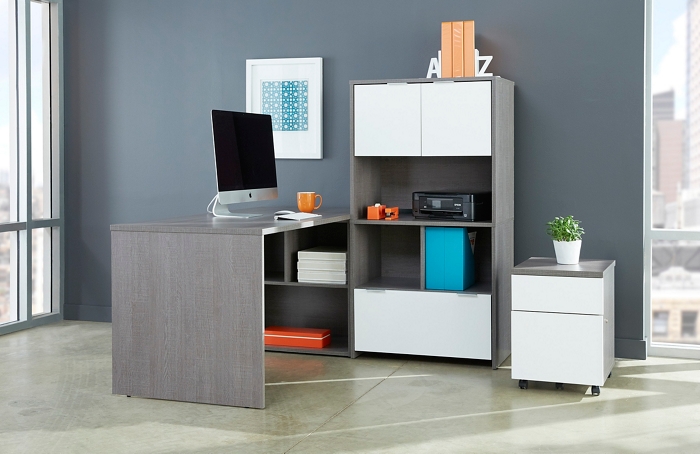 U-Shaped desks
 are similar to L-shaped desks, but they have three work surfaces which include a main desk, a bridge and a credenza. U-shaped desks are typically very large, but compact varieties do exist. A U-desk is ideal for an individual who needs as much work surface space as possible in order to get his or her work done effectively. U-desks almost always come packed with storage as well, so you can expect plenty of filing and utility space with this type of furniture.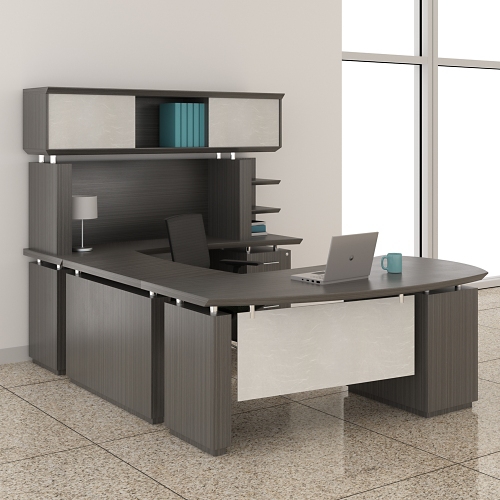 Standing and adjustable desks
 allow the user to alternate between sitting and standing throughout the work day. 
Standing desks
 are stationary and must be used in combination with a standard height desk or with an adjustable height stool. Adjustable height desks have a work surface that can be raised and lowered either via an electric mechanism or a manual one.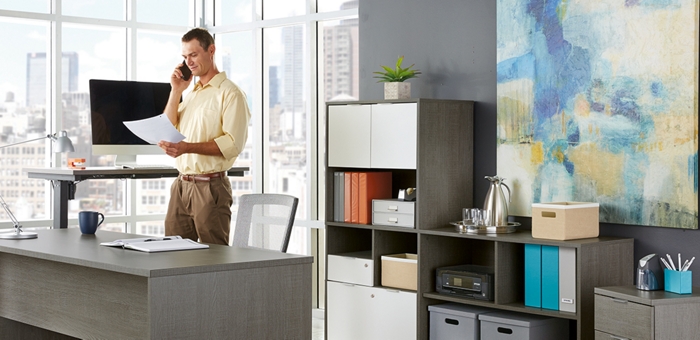 Credenza desks
 are narrow storage units with a kneespace that allows them to be used as a workstation. Credenzas usually have one or two storage pedestals and are most commonly used in conjunction with a U-shaped desk.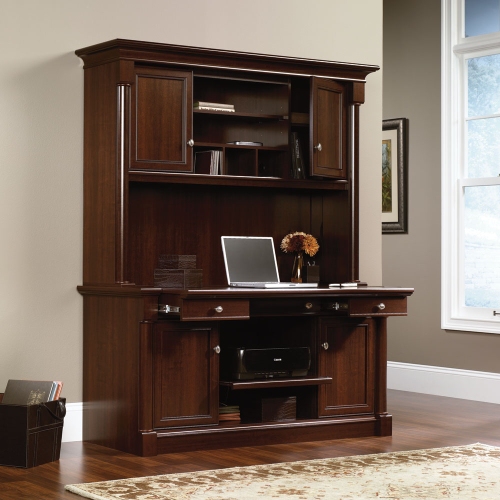 Cubicles
consist of a work surface that is surrounded by modular partitions. Cubicles are great for use as employee workstations in a mid to large size company wherein there are a large number of employees to seat in an open area.
Laptop and writing desks
 have a table-like design that consists of a spacious work surface with no pedestals. Any storage that may exist in one of these desks will be in the form of a pencil drawer and/or keyboard tray under the center of the work surface. It is commonly recommended that mobile pedestals be used if additional storage is needed.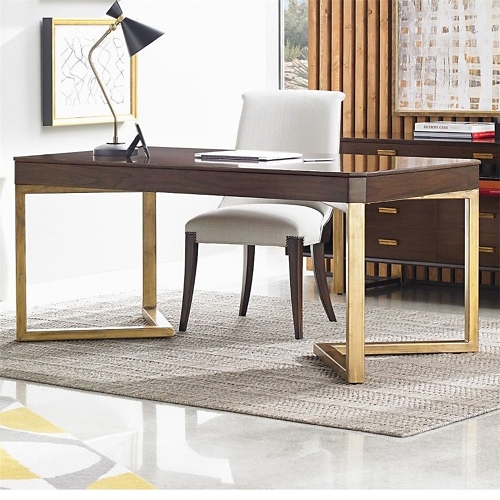 Corner desks
 are designed to be used in the corner of a room. This type of desk is different from an L-shaped desk because the user is meant to sit in the rounded corner of the desk rather than at one of the sides of the 'L' shape.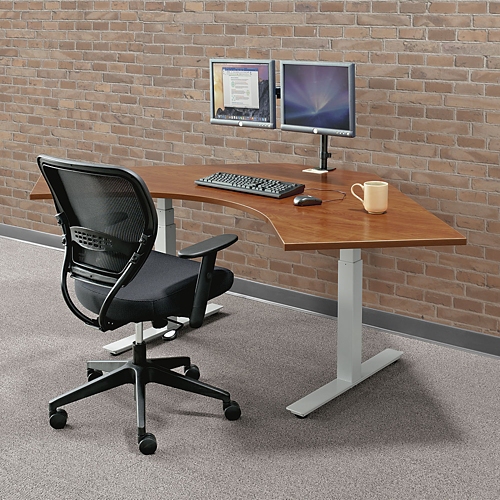 What size desk should I buy?
The size of the desk you choose will be determined by the size of your office and the type of work that you do. Take these steps to determine what size desk is right for you and your space.
Measure the size of your office to determine how large of a desk will be possible within the space. When measuring the square footage of the area where you'd like to put your desk, allow for at least two feet of space around it.
Measure doorways & stairwells to ensure the desk will make it into your office in the first place. If there will be a lot of slender doorways or narrow stairwells to navigate on the way to your room of choice, then you may want to consider getting a desk that isn't too big or comes ready to assemble (RTA), just to make sure that it will fit.