Looking for a statement piece that will give guests to your waiting room a warm welcome? Reception desks are typically the first thing people see when they walk into your building. Whether you're furnishing a corporate office or a healthcare facility, it's important to provide visitors with a clear place to go for information and to check in. Receptionist desks provide this focal point, and they make the receptionist's job easier, too!
Receptionist Desks – For Your Office Lobby
Reception desks in this selection come in a huge range of sizes and style to suit any and every office. From sleek and simple to rich and elegant, there's a look here to please every palette. Receptionist desks come as small or large as you need, so you'll have no trouble creating a look you love in your lobby. Plus, every option here comes with the T2B lifetime guarantee.
Reception desks in this assortment come from top-rated brands like our exclusive T2B Signature Series and Officient. Reshape your waiting room and check out our entire selection of reception furniture Need style inspiration?  T2B Commercial Interiors—Furniture that works. People who care.
Your reception desk is the centerpiece of your office's waiting room. As such, it's important to find one that will make your guests feel welcomed and make your receptionists feel comfortable all day. Unsure of what to look for in your new waiting room desk? Read on to discover what you should consider and how to make the best choices for your business.
What size reception desk should I buy?
The size of your reception desk will largely depend on the size of your waiting room. If you have a small reception area, we recommend choosing a compact waiting room desk that's designed with a small footprint to be used by one receptionist at a time. If you're working with a larger waiting room, you should utilize the space by equipping it with a larger reception desk. Just as a large reception desk will make a small waiting room look cramped, a small reception desk in a very large waiting room will make the room look disproportioned.
Modular reception desks are ideal for most offices as they can be made larger or smaller to fit your space as needed. We've designed our Compass collection with this idea in mind, allowing you to configure a workstation that perfectly fits your waiting room no matter how large or small.
What shape reception desk should I buy?
Reception desks come in a variety of sizes, and you'll want to choose one that best suits the needs of your receptionists and your guests.
Single surface reception desks have a single writing surface for the receptionist or receptionists as well as a transaction counter for guests to write on. These may be straight or curved and come in a range of sizes to suit one or more receptionists in your waiting area. Smaller versions of this type of reception desk are also commonly used in restaurants and other hospitality settings.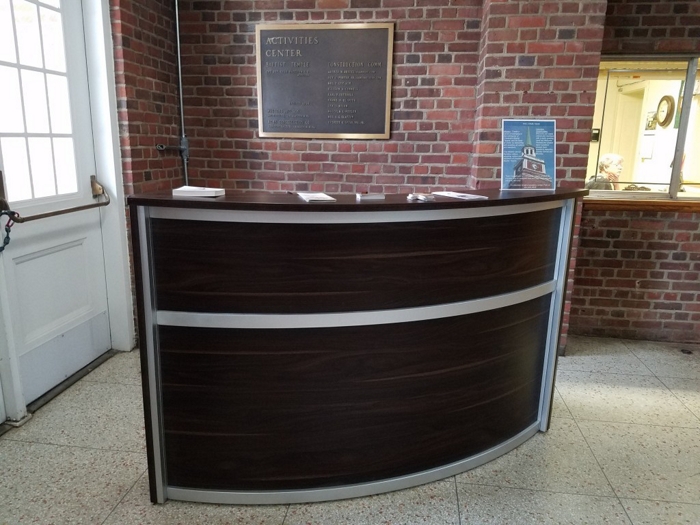 L-shaped reception desks include a main desk and a return that provide the receptionist with additional space to work. Most L-shaped desks are small enough that they are best used by a single receptionist at a time, though they do come in a range of sizes to suit different business needs.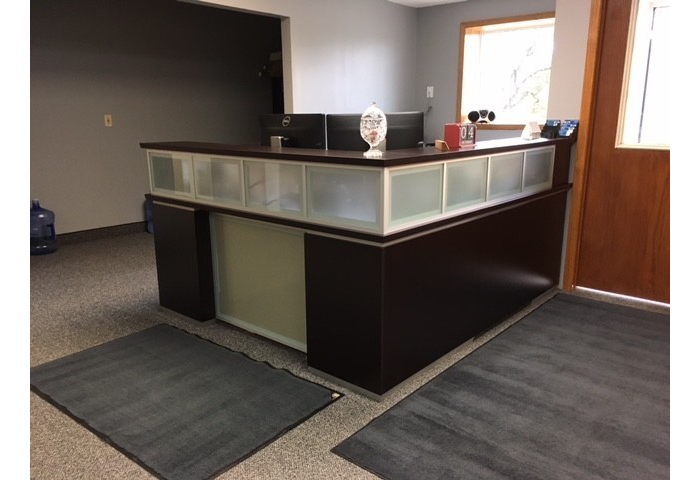 U-shaped reception desks include a third work surface for receptionists to utilize. U-shaped reception desks can have a curve to them or have straight edges, and they can often be used by more than one receptionist at a time in a large waiting room.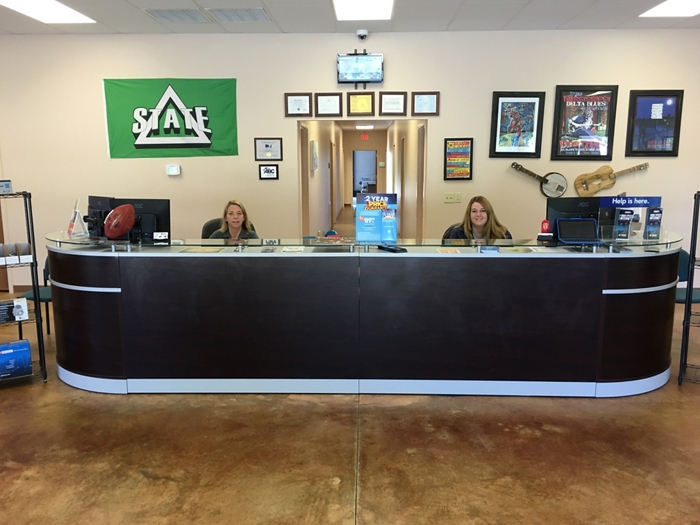 Round reception desks
 have a curved or circular appearance. These types of reception desks are best suited for larger waiting rooms where they can be the center of attention.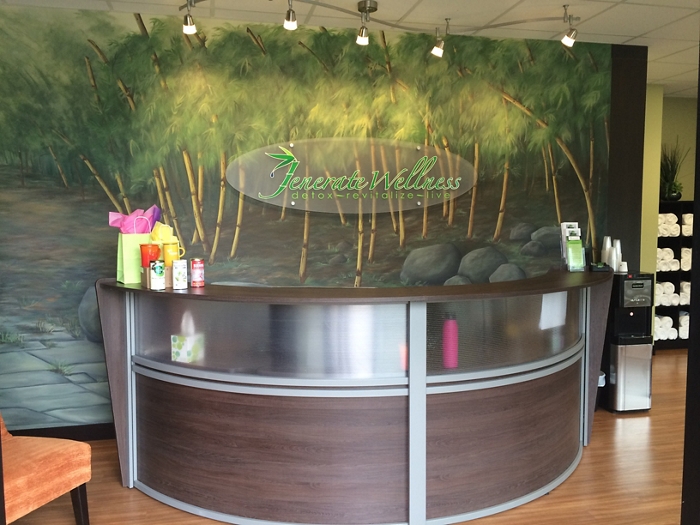 ADA reception desks
 are ADA compliant to accommodate individuals in wheelchairs. Most ADA desks feature a standard height transaction counter as well as an attached ADA height surface that measures about 33″ high.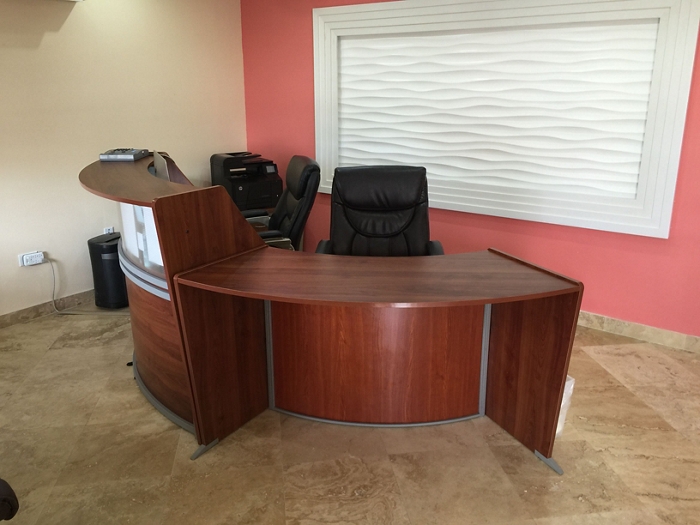 What type of materials should my reception desk be made of?
There's plenty to choose from! These are the most popular options.
Although laminate can be made to look like it has real wood grains, it is actually made from some form of particle board with or without a wood grain print. Desks that have a laminate surface construction are ideal for high traffic offices because laminate does not scratch or dent easily and is generally easier to maintain and keep clean. Laminate is also an affordable option, making it a great choice for businesses on a tight budget.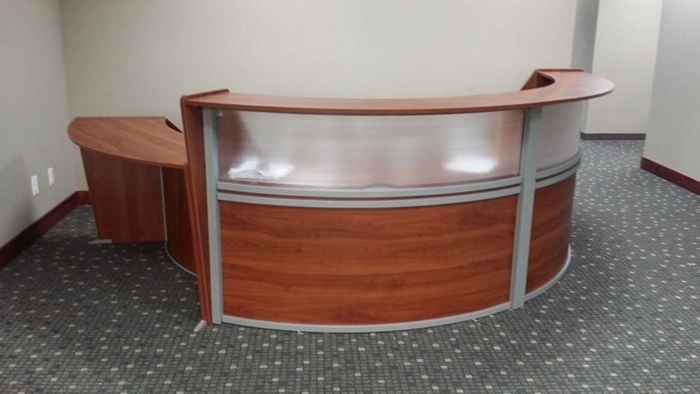 Wood veneer
 is a good in-between for those who want that real wood look without paying the high cost of solid wood furniture. Veneer desks have a similar base as laminate furniture (such as particle board), but feature a thin layer of real wood on top of that. Veneer desks can be trickier to clean and care for than laminate, but the veneer layer provides a much richer look that many offices prefer.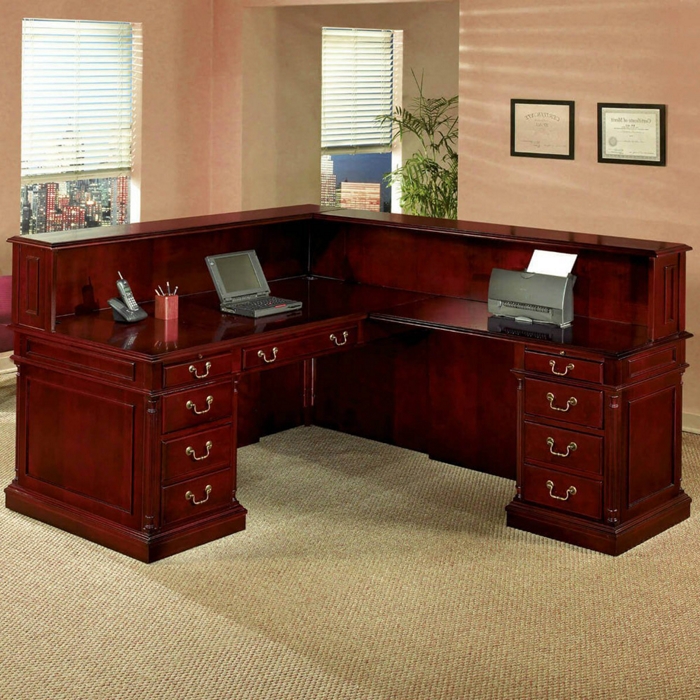 Although 
metal desks
 are available in all-metal varieties, most come with a wood or glass top and just have metal framework for stability and industrial aesthetics. Metal desks are usually made of steel, though the gauge may vary and the desk may come in either a chrome or powder coated finish.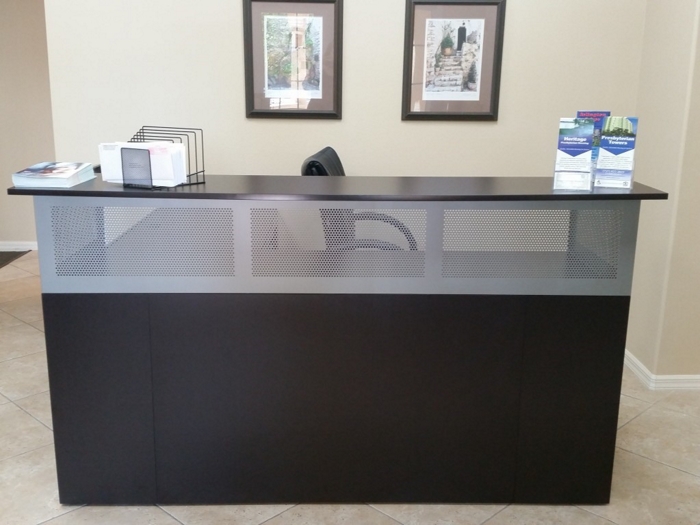 In the case of 
glass desks
, the work surface is usually made of tempered glass that is thick to prevent shattering. This is usually complemented by metal framework. Glass is easy to clean, but it does show fingerprints easily. If you don't want a full glass top, there are wood top options with a glass inlay available.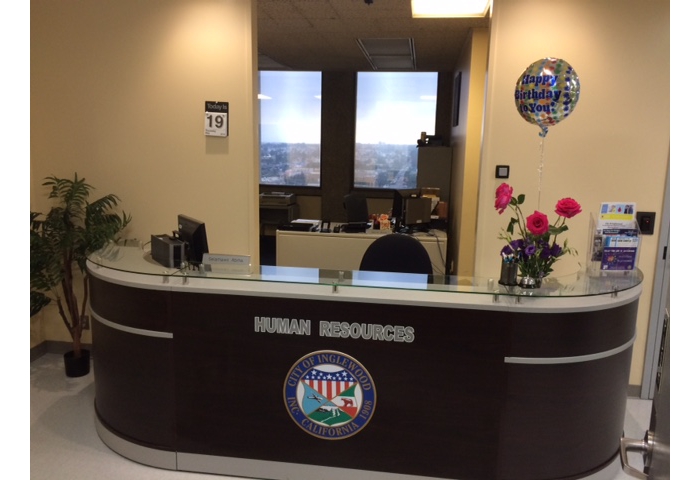 Still have questions? Leave a comment below or call our furniture experts at (800) 558-1010 and we'll be happy to help with all of your 
office furniture
 needs!